Invitations & Announcements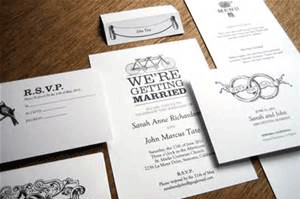 We offer Wedding, Party, Gala Event and other Special Occasion Invitations
Are you a designer looking for a custom thermographer to print your specialized pieces? We can fill that need. Specify your ink and stock, or supply the stock to us, and send us your design. In most cases, we can ship the pieces to finished size; however, there are limitations when it comes to cutting already-thermographed sheets. Thermographed sheets do not lay flat so cannot always be cut exactly according to specifications. We always print on the finished size piece whenever possible. It is not possible if the design bleeds (comes off the edge of the sheet), has no gripper (5/16" at one end without any printed image) or is too small. The smallest piece we can print is 3 1/2" x 4 7/8". If the finished piece is less than 1 3/4" we will not be able to cut to size.
When choosing an ink color keep in mind that inks are translucent and will pick up the stock color that it is printed on so will change color from the ink chart you compare it to. For example, if blue ink is printed on yellow paper, the ink color will look green. Also, some stocks with light metallic finishes will reflect a good deal of light making inks appear lighter than they would on solid white paper. In those cases you may want to specify a slightly darker color. For example, if you want to use PMS® 205 to print on a lightly speckled metallic stock, use PMS® 206.